Live Video Call with an Experienced Plumber
Receive our Plumbing Report
A live Video Call with an impartial and highly experienced plumber will provide:
Click the button below and select a time slot.
Pay a one-off fee of £15
Following the video call, you'll receive a simple plumbing report in your inbox outlining how to fix your issues yourself and spare parts required, or an impartial cost estimate for any further work required.
Immediate simple solutions to your plumbing problems, to help you fix the issues yourself

If required, an impartial cost estimate for further professional work

Peace of mind... to ensure you don't pay a penny more than you should
Making Plumbing Easy For Everyone



Have a plumbing problem or are you unsure on what product to buy?
Detailing the correct fixture or fitting
We think Plumbworld is the internets leading online retailer for plumbing products.
The report will provide a direct link to the correct parts.
Peace of mind... ensure you make an educated choice.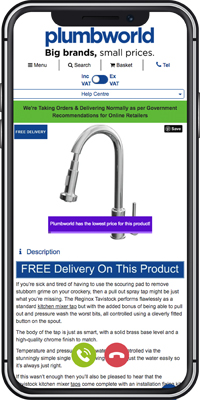 Affordability
For only £15, you can speak to a Plumber via a live Video Call from your mobile device or laptop. They can advise you how to fix the problem yourself and, in the case that you still need to call out a Plumber, empower you with the knowledge needed to ensure that you pay the correct price for the work needed.
​
Accessible and convenient
Hold a live Video call with a Plumber from anywhere at your own convenience and avoid waiting hours (and sometimes days) for a plumber to visit your home or business. No more call out times.
​
Highly qualified Impartial Plumbers
All of our Plumbers have 10+ years' experience. With Plumb Doctor you avoid dealing with overpriced rogue traders – unfortunately common throughout the Plumbing industry. We provide impartial Plumbing advice with no upselling.
Secure and confidential
Unlike many Plumbing firms, we value Data Protection
We provide access to your video call history and reports for complete transparency.
Innovative technology
Why spend £hundreds just to find out what the problem is when you can speak to a Plumber instantly using our innovative video technology.
Environmentally friendly
Reduce your carbon footprint. Have a Video Call via Plumb Doctor and potentially avoid an unnecessary and costly Plumbing call out, helping to save the planet
Video Call A Plumber : Avoid the Call Out, we aim to fix on the call

Save Money : £15 Flat Fee

Save Time : Book a Call in Minutes

Gain Peace of Mind : Receive a report with costs estimates, parts and diagnosis
Video Call A Plumber :
Avoid the Call Out, we aim to fix on the call
Save Money : £15 Flat Fee
Save Time : Book a Call in Minutes
Gain Peace of Mind : Receive a report with costs estimates, parts and diagnosis